To Tread True we think greener too – for the good of New Zealand, and the planet.
Our Environmental Commitment
1 Million kgs less CO2 emissions
3.3 Million litres less oil consumed
2.8 Million kgs less raw material consumed
Environmental Accreditation
Carter's Tyre Service is compliant with the  ISO14001 international environmental standard. We are proud of our achievement's in waste minimisation and recycling, continually monitoring resource usage fuel, electricity  and waste conversion.
85% of all manufacturing waste is reprocessed and as the retreading process has a huge impact on reducing emissions and natural resources.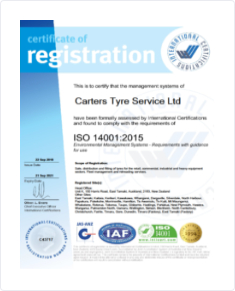 Our Environmental Partners
Carter's Tyre Service will only use forward thinking contractors who have a proven track record with good sound processes and systems. Our pyrolysis plant breaks down whole tyres for 100% re-use and can include plastic in the process.